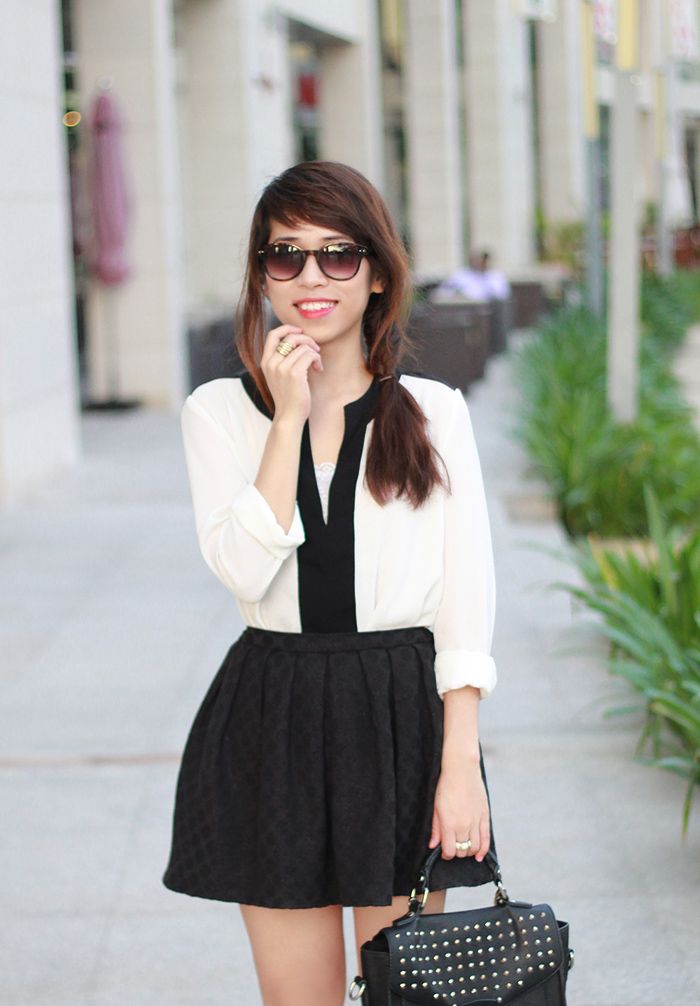 Trắng-đen, bộ đôi màu sắc kinh điển nhất mọi thời đại. Thường đc coi là lựa chọn an toàn, luôn đúng, ăn chắc mặc bền của thời trang chứ ít bao giờ người ta nói về trắng-đen như một xu hướng thời trang mốt của mùa.... ít nhất là cho đến thời gian gần đây. Không chỉ đắt show trên sàn diễn catwalk Thu-Đông, đen-trắng còn khẳng định là bộ đôi màu sắc gây bão trên khắp nẻo đường phố của tứ đại kinh đô thời trang. Nóng bỏng đến mức dù là fashionista tân binh hay các ngôi sao thời trang gạo cội thì cũng phải có ít nhất một bộ là biến tấu của 2 gam màu này.
Mình thì mừng rồi, vốn rất thích combo này nên trong tủ ko thiếu đồ trắng-đen, tha hồ biến tấu mà ko ảnh hưởng nhiều đến tình trạng ví ;]. Thời buổi kinh tế khó khăn tớ chỉ mong có vậy *o*.
* * *
Black and white, the most classic color combination of all time. It's always been in fashion, a wardrobe staple, a go-to choice....it's so universal that it's hardly ever considered a trend.... well, until recently. I swear, it's been a while since I've seen such a buzz about B&W. Be it B&W color blocks or prints, this duo is literally EVERYWHERE and worn by EVERYONE, from runways to streets, from red carpet to blogsphere.

It's safe to say that everyone went crazy for B&W

. Not that I'm complaining, I myself love classics and let's face it, this got to be one of the most simple and affordable trends to pull off ;].
Photos from S/S'14 Fashion Week