Chào mọi người <3,
Hôm nay súc tích một chút và vào thẳng vấn đề chính nhé =3.
Tối qua mình nhận đc mail của tạp chí ELLE Vietnam thông báo mình là 1 trong 8 người lọt vào vòng chung kết cuộc thi ELLE Street Awards. Trong vòng này các thí sinh có vote cao nhất từ các thành viên của Facebook sẽ đc tiến gần hơn đến ngôi quán quân.
Mình rất hy vọng các bạn có thể bỏ ra 1 phút vào trang

Facebook của ELLE Vietnam

và vote cho mình bằng cách "Like" ảnh của mình *O*<3
- đơn giản như vậy thôi =3.
Cảm ơn mọi người <3 <3.
Ahh...nếu các bạn có thể "Share" link nữa thì mình cũng rất cảm ơn <3 <3.
* * *
Hi everyone,
I'll get straight to the point =P.
I'm currently taking part in ELLE (Vietnam) Street Awards competition. I just got notified yesterday that I'm one of 8 final contestants.
I would be very grateful if you could just drop by

ELLE Vietnam Facebook

page and vote for me by clicking "Like" the photo of me *O*<3 - as simple as that <3.
Ahh..and if you could also share the link I would be very, very happy *O*.
Thank you!
Btw I was pretty surprised that ELLE editors chose this look to represent me =P.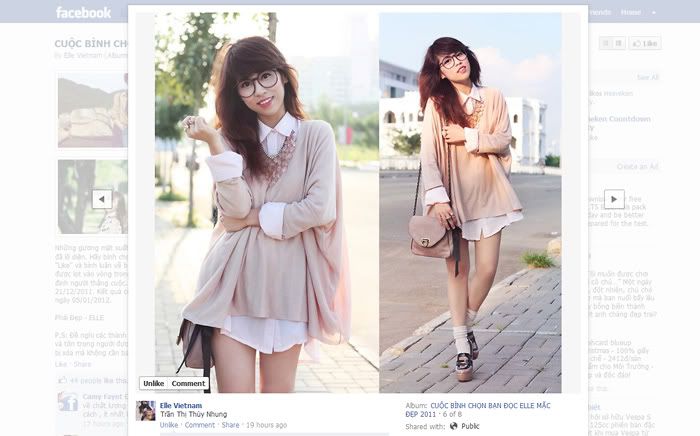 ____________________________________________